If you give your products an unforgeable identity, you have countless applications in the world of IOT (Internet of Things) open to you.
The combination eXsist Code / Smartphone bridges the gap between the physical world and the digital world. This makes countless useful applications possible.
The European Union Intellectual Property Office (EUIPO) reported in June 2018 that counterfeiting costs the EU 60 billion euros a year. With an increasing tendency. It is remarkable that not only luxury goods are counterfeited, but products from all areas are affected.
One of the main applications of eXsist is the protection of products against counterfeiting. Below is an illustration of how the system can be used in the packaging industry. In this example, a product is protected by applying an eXsist code to the product label.
2. the codes are recorded and recorded in a database or blockchain.
3. the registered labels are delivered to the manufacturer.
4. the manufacturer applies the label with the eXsist code to his products.
1. the print shop produces the label in consultation with the customer and applies the eXsist code.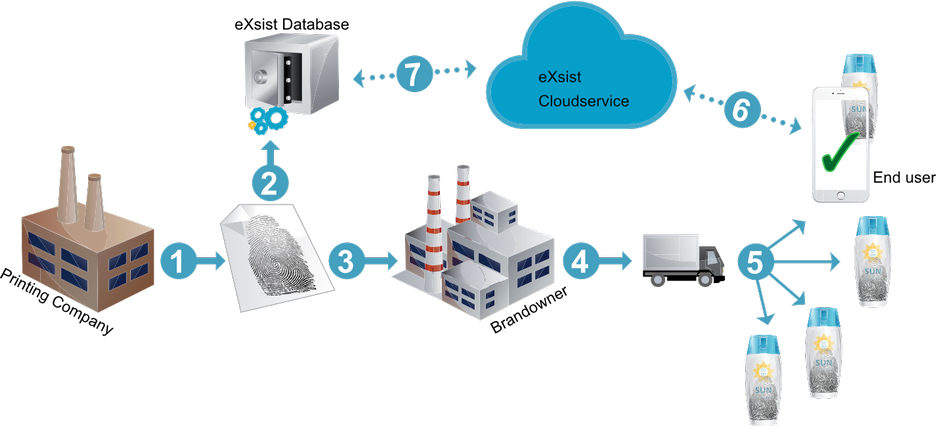 6. the end customer scans the product with the smartphone before the purchase and sends the data via the cloud service to the eXsist database.
7. in the eXsist database, the finger bath pressure is checked for authenticity and the result is immediately reported back to the end customer.
5. the manufacturer distributes its products in the market. The supply chain can be tracked precisely with track & trace. Down-scaled to the individual product. For example, the channels for grey imports can be idendified.
eXsist codes are inexpensive to produce and their application is simple and secure. Give your products a unique identity and protect yourself against product piracy. Get in contact with us.
We license eXsist. If you have an application and would like to produce eXsist codes for your customers yourself, you are cordially invited to an interview